Carbon Offsets Get Us Closer To Being Carbon Neutral
Written By: Warm Thoughts Communications on May 9, 2022
Eco-friendly Power Sources Make a Difference for the Environment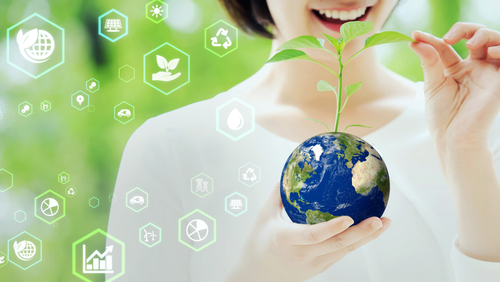 Many of us simply aren't in the position to overhaul our lifestyle to the degree that would make a big difference in climate change. After all, not everyone can choose to go without a vehicle, or stop commuting, for instance. Fortunately, there are changes we can make that can offset the carbon outputs we all create, just by living our daily lives. These actions are called "carbon offsets," and below, we'll discuss how you can use carbon offset choices to counterbalance your own negative carbon impact on the environment.
What is a Carbon Offset, Exactly?
Carbon offsets include investments in sustainability efforts that reduce carbon footprints and lower harmful greenhouse gas emissions. The focus is on reducing the damage caused to the environment by human activity in a general sense, rather than prioritizing personal lifestyle changes. This does not mean that lifestyle changes are not valuable—they are, undoubtedly. However, carbon offsets are an impactful tool that you can add to your wheelhouse when tackling climate change. Some examples include making investments in:
Carbon-neutral, wind, solar or hydroelectric sources.
Reforestation projects.
Methane capture capabilities at landfills and wastewater treatment sites.
Development of new energy-efficient technologies.
An energy provider that offers renewable energy offsets.
Your Energy Choices Matter
Much of the electricity in our nation is generated by the dirtiest source of fuel, coal, or the most problematic, nuclear. But you can flip that switch and protect your pocketbook at the same time. On average, a home that isn't run on green power will generate 8.5 TONS of carbon emissions in one year. That's equal to the greenhouse gas emissions of an average passenger vehicle driven over 18,963 miles.
In other words, choosing an energy provider that invests in green power could potentially offset your commute for the entire year—or longer.
Exercise Your Power to Make a Difference
When you switch to one of our Green Plans, 100% of your electric usage will be offset by carbon-neutral, wind or hydroelectric sources. Discount Power operates with utilities in Delaware, Maryland, Massachusetts, New Jersey, Ohio, Pennsylvania, and Rhode Island servicing both residential and commercial customers. Your existing utility will continue to deliver power to your home or business, send you your bill and respond during any outages. But that electricity is replenished by Discount Power with energy you can feel good about using.
It's easy, it's safe, and it's 100% pollution free, so get energized about your potential savings.
With Discount Power, you get to have it your way
Want to neutralize your carbon generation with carbon offsets, for an affordable price? With Discount Power, you can lock in today's low, green electricity rates for an extended period so you can feel even better about the difference you're making, without breaking the bank.
Plus, your locked-in rate will also help shield you from typical price spikes.
If green, sustainable energy appeals to you, then let us provide you the solutions. With wind-sourced power, all your electric use will have zero carbon emission impact. Whether you want to ask a question, request a free consultation, or need help enrolling in a plan, we want to make the process easy for you, so contact us today to become a customer and join the Discount Power family. Compare plans, rates, and local providers to supply electricity to your home or business. It's super easy!