Are Electricity Rates Higher During the Day?
Written By: Warm Thoughts Communications on December 6, 2021
How to Know Whether You're Getting the Best Energy Rates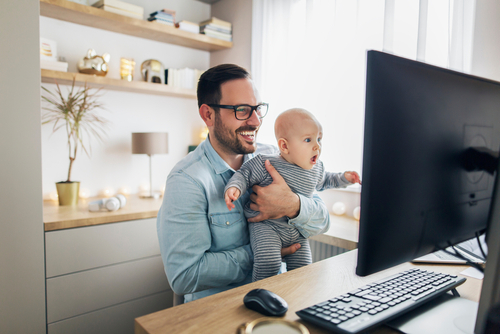 We've all heard the adage to run your dishwasher after midnight or do your laundry after 8 or 9 p.m.—though the specifics are a little unclear! Read on to get the skinny on when you can get the most bang for your buck, when it comes to your energy usage's effect on your bill.
Peak Hours Are Key
Your grandma, boss, or neighbor had the right idea when she gave you the tip to operate your most energy-sucking appliances during off-peak hours, but whether the advice will be effective in lowering your costs may depend on where you live and whether you opt-in to the special rates.
That's because the electric company often sets so-called "time of use" rates (TOU) to encourage folks to use their power less during the times other households may be using it more. These TOU rates are typically optional, but some states, like California, are moving towards requiring them—either altogether, or for certain customers, like those who use solar power.
Why Does the Power Company Care What Time of Day You Consume Energy?
In laymen's terms, it's all about supply and demand. When demand for energy is greatest—like in the daytime, when most people are awake—that can put a strain on the electric grid. Reducing the number of households consuming their peak energy levels during high-demand hours can free up energy supplies and reduce stress on the distribution system. The cheapest times to use your energy under TOU rates are typically between midnight and 6 a.m.
It's Largely About Profits for Big Utilities
Utilities also have another motivation for preferring a TOU rate over a flat rate, where all customers pay the same, and it comes down to their profits. Utilities purchase their electricity stores in advance, and the earlier they buy it, the cheaper it is for them. When demand gets really high, they may have to buy the energy at the last minute instead, and this inherently costs more. In other words, the utility makes a larger profit when they can spread their customers' usage out, rather than having everyone clamoring for increased power at the same time.
Sometimes, the Exception Swallows the Rule.
It's true that it's often cheaper to use your electric appliances during off-peak hours. The problem arises, though, when peak hours vary from season to season, or even during holidays.
For instance, some jurisdictions base their peak hour estimates on the weather. People use the most heat while they're at home, but often turn their thermostats down while they are at work and out of the house. This can turn peak hours on their head, making it cheaper to operate your appliances during the workday, instead of at night—at least, in the winter. The varying rates and schedules can be a lot to keep up with!
Are TOU Rates Worth the Hassle? That Depends.
Unfortunately, many homeowners ultimately find out that the money they may save by washing their clothes in the middle of the night just isn't worth the hassle to pocket $10 a month or so. Households that save the most money under TOU rates are those who use more electricity than average and can shift a large portion of that usage to off-peak times.
If you're charging 3 electric vehicles each day or blasting your air conditioner all summer at 62 degrees, you might find TOU rates beneficial. Some families have success by using solar panels or a rechargeable home battery to shift the burden of the power usage to these alternative sources during peak hours.
Want an Easier Way to Save Big on Your Electricity? Contact Discount Power!
Discount Power has proven to be a safe, easy way for Northeast United States customers just like you to take control of their energy costs, providing them the flexibility to choose plans that fit their needs, and save them money too!
Don't worry, your utility company will still respond to power outages, and send you your statements. But now you're not stuck with their limited options. And if you're uncertain which usage plan works best for your household, one of the experienced energy professionals at Discount Power can go over your options for taking control of your energy costs in Connecticut, Delaware, Maryland, Massachusetts, New Jersey, Ohio, Pennsylvania, and Rhode Island!
If you're tired of seeing your utility bills fluctuate without any control over what's happening, you'll love us. Lock in your rate from monthly up to 36 months by calling today!