How Much Electricity Do My Appliances Use?
Written By: Warm Thoughts Communications on December 22, 2020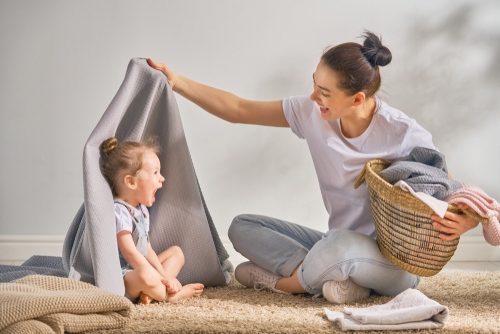 To some people, an electric bill is a bit of a mystery—one that occasionally has an unwelcomed surprise ending. How does your bill get to be what it is? For the most part, it's about choice. Specifically, it's about the choices you make when you buy—and use—your appliances.
That's because electricity is generally charged by the kilowatt-hour (kWh), which means that any time you turn on an appliance—or often when you simply plug it in (see the section on vampire power below)—the meter is running.
Common Appliance Energy Use
Since some devices consume more electricity than others, it's a good idea to learn how much energy is used to run common appliances in your home. Check out this list, courtesy of the U.S. Department of Energy:
| Appliance | Kwh | Estimated Annual Cost |
| --- | --- | --- |
| TV (40″ or larger) | 234 | $41.00 |
| Refrigerator | 225 | $78.84 |
| Washing Machine | 255 | $9.55 |
| Dryer | 2790 | $104.46 |
| Air Conditioner | 3500 | $460.00 |
As you can see, the numbers can add up quickly. The question is, what can you do to keep them as low as possible? Here are some insights about a few of the more common appliances that are likely contributing to your electric bill—and what you can do to keep down the cost of using them.
Washing Machines And Dryers Energy Tips
Did you know that the average American family washes about eight loads of laundry a week? That's about six hours each of washing and drying, if you're keeping score at home. With even the most efficient models of each installed, you could be paying more than $100 a year in electricity just to keep your clothes clean.
To reduce energy use when washing and drying laundry, try the following steps:
Choose high efficiency appliances. When you shop for a new washer or dryer—or any major appliance—look for the ENERGY STAR® label. ENERGY STAR products usually exceed minimum federal standards, often by quite a bit.
Air dry your clothes. As you can see in the chart above, dryers use a tremendous amount of energy. Air dry your clothes outdoors or set up a collapsible drying rack inside your home. This "traditional" take can not only help save you from excessive wattage but can even be better for the longevity of the clothing itself.
Wash in cold water. Nearly 20% of the average home's energy bill comes from heating water. Today's detergents are designed to work in water of any temperature. Take advantage by using your washing machine's cold setting. You likely won't even notice the difference!
Television Energy Tips
The average American watches about four hours of TV per day—that's about two months of viewing per year! That kind of viewing will set you back about 341 kWh a year for a TV 40" or larger—about $41. Of course, that's for one TV…the numbers multiply as you add sets to the equation.
How do you reduce energy use from your TV?
Get an ENERGY STAR® model. Yes, TVs come with ENERGY STAR® ratings, too. 
Choose your technology wisely. For less than 50″, get an LCD, which is more efficient at small sizes; for greater than 50″, DLP wins the day. If you're getting a DLP, choose a model that uses an LED light source, which uses even less energy and will save you from having to replace the bulb every few years. Plasma sets use more energy than any other TV technology.
Watch less TV. There, we said it!
Refrigerator Energy Tips
The average refrigerator uses an estimated 657 kWh of electricity a year, typically costing you $80 or more per year to run. By maximizing your refrigerator's efficiency, you can take a bite out of your energy bill.
Here's how.
Replace your old refrigerator. Old fridges are electricity guzzlers. If you've had one for a while (approximately 10 to 15 years, or more) you should consider replacing it with—you guessed it—a modern ENERGY STAR® model.
Set an optimal temperature. For each additional degree of refrigeration output, about 6% more electricity is used. A setting of between 37 and 40 degrees will keep your food cold enough to stay fresh without making your equipment work harder than necessary.
Choose your location carefully. Avoid placing your refrigerator next to a heat source such as an oven or radiator, or even in direct sunlight. Always ensure that your refrigerator has enough ventilation so that the compressor does not end up running continuously.
Central Air Conditioning Energy Tips
The average three-ton air conditioner operates at around 3.5 kWh while in use; if you run it for nine hours a day during the summer, it would cost you nearly $500 per year.
To reduce your air conditioning bills, try the following tips:
Set your thermostat to a reasonable temperature. Remember, it's the difference between the temperature inside and outside your house that makes you feel cool, not the absolute temperature on your thermostat. Aim for 78 degrees for the best balance of energy efficiency and comfort.
Use ceiling fans. Moving air feels cooler than still air; by using ceiling fans to circulate air, you can drop your thermostat by three or four degrees without sacrificing comfort.
Avoid running heat-producing appliances. Using ovens and clothes dryers during the summer creates an extra heating load for your A/C to overcome; consider air drying, which will also cut your electric bills, and cooking outdoors.
Want another way to save money on your electric bills? Switch to Discount Power—nothing will change in your electric service—except your rate! You'll still get your bill from your current utility company and they will still handle all your service needs. You'll just have more options, more control and more ways to reduce your carbon footprint. Contact us today to learn more, or get started online right now!