The Freedom To Choose Your Energy Provider
Written By: Warm Thoughts Communications on November 10, 2021
You Have the POWER to Choose Your Energy Supplier!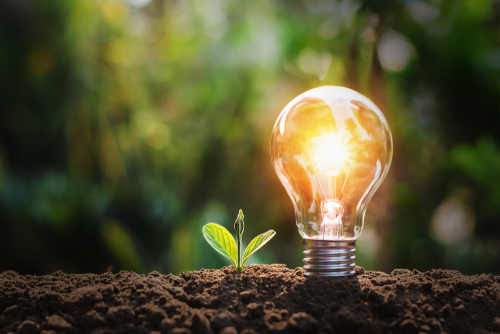 In days gone by, utility companies held all the power when it came to supplying electricity and natural gas to customers. After all, they control the gas pipes and power lines that bring your energy to your home or business, so it only makes sense that the utility also supplies the power and fuel, right? Well, not so fast.
These days, many states across the Northeast are recognizing that customers should have greater freedom to choose their energy supplier. Below, we discuss five of the top benefits of energy choice—and how Discount Power can help you choose the plan that best serves your needs!
Competition Benefits the Customer
By relaxing laws that assign both supply and delivery responsibilities to the utility company, the 29 states that have adopted "de-regulation" thus far are making strides by separating the source of the energy from its method of transportation. In other words, these states recognize that a delivery responsibility does NOT necessarily equal an automatic right to supply the energy.
And that transfer of some of the "power to choose," benefits you—the customer—since competition leads to competitive pricing, benefits, unique plans and more. Choose what you want, not what your utility wants to offer every single customer!
Your New Energy Supplier Will Be Motivated by Your Power of Energy Choice
Nothing puts businesses on their best behavior quite like a customer who has already demonstrated their buying power by proving their willingness to seek out the best options available. Many competitive energy suppliers work hard to keep their customers happy, for the long haul, by being responsive to their needs and communications, offering incentive and rewards programs, along with increased savings opportunities.
Become a customer of Discount Power today and experience all we have to offer—including our Rewards Program that allows you to earn points towards shopping, dining, travel and more!
The Power to Make a Difference with Greener Energy
With a complete portfolio of renewable energy options, we can also help you feel good about the energy you use every day. Utility companies don't always have the incentive to offer greener energy options, but by switching to a supplier with options that can reduce your carbon footprint, you can make a difference with your buying power. When you switch to any one of our Green Energy Plans, 100% of your electric usage will be offset by carbon-neutral, wind or hydroelectric sources.
The Best of Both Worlds: You Can Keep Your Utility Services
Choosing a competitive energy supplier does not mean you'll be severing your relationship with your utility provider—far from it, in fact. Your current utility service will continue to deliver your energy to you, through the channels in place – the lines, pipes, poles, and wires.
As the party in charge of delivery, the utility will still be tasked with any necessary maintenance or repair. You won't be left to fend for yourself if there's a gas leak or downed power line. Plus, you can continue to pay just one consolidated bill if you like. Discount Power makes choosing the energy supplier that's right for you, easy and painless!
And if you don't agree, you can always switch back to your utility company at the end of your plan. But we think once you give us a try, you're going to be happy you came over to Discount Power.
Discount Power Puts the Power of Energy Choice in Your Hands!
Get energized about your power to save! Currently, Discount Power serves tens of thousands of customers who made the switch, and operates with utilities in Connecticut, Delaware, Maryland, Massachusetts, New Jersey, Ohio, Pennsylvania, and Rhode Island, servicing both residential and commercial customers.
Reach out to our professional energy experts at Discount Power who can help you compare plans, rates, and providers to supply your electricity or natural gas. There's absolutely no risk, and plenty of reward!