5 Important Natural Gas Safety Tips
Written By: Warm Thoughts Communications on August 9, 2021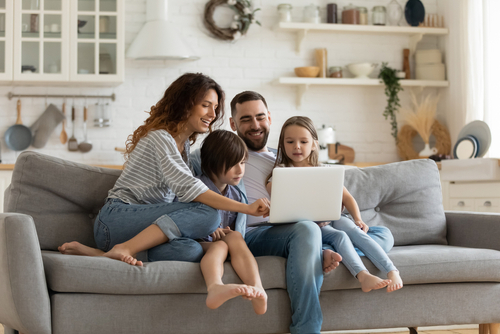 Natural gas is one of the most efficient, effective and versatile energy sources around. It powers everything from furnaces and fireplaces to clothes dryers and cooktops.
But like any source of energy, the safe use of natural gas requires some care. If you handle it improperly, this fuel does present potentially dangerous situations. The good news is that by following a few simple safety tips, you can be sure to keep yourself and your family safe. Here are five natural gas safety tips for utilization in and around your home.
1. Know How to Detect a Natural Gas Leak
Pipes or appliances powered by natural gas can develop leaks, which can be extremely dangerous if not handled properly. If you notice any of the following signs of a natural gas leak in your house, evacuate and call 911 from a safe distance:
A rotten egg smell: Natural gas is odorless and colorless in its natural state, but gas companies add a chemical that smells like rotten eggs to make leaks easier to detect. The stronger the smell, the more likely it is that you have a gas leak, especially if it is in proximity to a gas-powered appliance.
Hissing sounds: If your leak is large enough it could produce "hissing" noises—even if the appliance is turned off. Listen to your pipes and appliances regularly to check for this.
Dying plants: Dead plants inside or outside your home could be a sign of a natural gas leak—especially if the onset is abrupt and occurs to all your plants at once. Natural gas reduces the amount of oxygen a plant can absorb, which will eventually kill it or stunt its growth.
Signs of natural gas poisoning: Symptoms of exposure to low levels of natural gas are like those of a flu—headaches, dizziness, fatigue, nausea and irregular breathing. As exposure increases, fatigue, severe headaches, memory problems and even loss of consciousness and suffocation can occur. If you notice these symptoms, contact a doctor immediately.
Rising natural gas bills: Unexpected increases in natural gas usage—especially anything uncharacteristic above your seasonal averages—might suggest a possible leak somewhere in or around your home.
2. Regularly Inspect Natural Gas Appliances
Have your gas appliances inspected by a qualified professional every year. Not all problems with natural gas equipment are obvious, so leave it to the pros! Most natural gas appliances have a pilot light, so be sure to check that as well. If the flame is yellow or orange rather than blue with a slight yellow tip, contact a professional for service right away.
3. Teach Your Children About Natural Gas Safety
Keep children away from stoves, furnaces and other natural gas appliances, and teach them to identify and respond to signs of a natural gas leak. You can use fun, outside resources to keep them engaged—look at the example video here for instance!
4. Install Natural Gas and Carbon Monoxide (CO) Detectors in Your Home
A slow gas leak may not produce enough odor for you to detect, especially if someone in the house has a diminished sense of smell due to allergies or a cold. For these reasons, we strongly recommended installing natural gas detectors throughout your home as directed by the manufacturer. Carbon monoxide detectors are required by building codes in most homes in most states, so be sure your home meets your state's mandate. Check the batteries in your natural gas and CO detectors at least twice a year.
5. Know How to Shut Off the Natural Gas Supply in Your Home
Your natural gas shutoff valve is usually outside the house. Make sure everyone knows where the shutoff valve is and how to use it. Even with the value turned off, DO NOT go back in the house if there's a natural gas leak. Call 911 and wait for help from a safe distance away.
Looking for a natural gas plan that saves you money and makes bills more manageable—all while helping reduce your impact on the environment? We can help! Contact Discount Power today to learn about our available natural gas plans and enroll in one of our clean, green energy solutions!