Offshore Wind Energy: Top 10 Things You Didn't Know
Written By: Warm Thoughts Communications on June 1, 2020
Learn all about our Green Energy source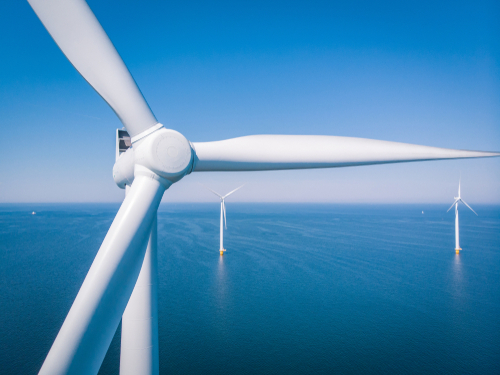 When you enroll as a Discount Power customer, you have the opportunity to make a positive impact on the environment by signing up for one of our Green Energy plans. These options, available throughout our service area of CT, MD, MA, NJ, OH, and PA, allow you to feel good about the electricity you are using in your home for everything from lights to your TV and computer.
100% of your electric usage will be offset by carbon-neutral, wind-generated sources. It's easy, it's safe, and it's 100% pollution-free. This wind energy can come from wind farms on land, but it can also be generated by offshore winds, too! Here's some information about just how that works:
Offshore wind energy can make a big impact
The first commercial offshore wind energy generator in the United States was launched in 2016 three miles off the coast of Block Island. The island, located nine miles off the coast of Rhode Island, is now powered entirely by that wind energy generator. It replaces five diesel generators, which burned about a million gallons of diesel every year to power Block Island.
Offshore wind resources are plentiful
According to the National Renewable Energy Laboratory, offshore wind energy generation can exceed 2,000 gigawatts of capacity, or 7,200 terawatt-hours per year of generation.
Offshore wind turbines can be very tall
With those plentiful offshore wind energy resources, offshore wind turbine components are scaled up to take full advantage of them. They can reach heights of nearly 550 feet!
Floating offshore wind farms are coming
Floating offshore wind platforms let wind energy be generated in deep waters. Multiple companies in the United States are developing them as we speak. Why is this a big deal? Conventional wind energy generators are cost-prohibitive when the depth of the water is 100 feet or more. Floating platforms for wind energy development are cost-efficient, and have a lower risk, meaning wind energy will be more attractive to investors. That helps the wind energy industry continue to grow.
Offshore wind farms don't have to be in deep water
Sticking close to shore has its advantages. Forty-three percent of the offshore wind potential in the Atlantic Ocean is found at 100 feet deep or shallower.
How offshore wind farms get energy to the grid
The offshore wind turbines produce electricity, which is sent back to land through cable systems buried in the sea floor. From there, the electricity is channeled through coastal load centers. Those centers prioritize where the electricity needs to go. From there, it goes to the electrical grid to power homes, businesses, schools, and more!
Offshore wind turbine components are getting bigger
Bigger turbines generate more electricity. The wind energy industry has had a challenge to get the larger components for bigger turbines out to sea, as transporting them on roads or trains isn't feasible. So ships and barges are now transporting them, too!
Offshore winds are in sync with us
The wind offshore has good timing. Those offshore winds are commonly at their strongest during the day. That means a more stable, efficient generation of energy can be done when consumer demand is at its heaviest. Conversely, land-based wind resources are stronger at night.
Offshore wind resources are where people are
Almost three-quarters of the electricity consumption in the U.S. occur in its 28 coastal states because that is where most Americans live. With offshore wind resources located nearby, wind turbines off the coast need shorter transmission lines to connect with the electrical grid than most other sources of electricity.
You can help grow offshore wind energy
With a Discount Power Green Energy Plan, all your electricity usage will be offset by carbon-neutral wind energy sources. Thus you will be a part of developing sustainable energy resources!
Exercise your power to make a difference when it comes to your household energy. Be a part of the solution and enroll in a Green Electricity Plan from Discount Power and know that your energy source is clean – and green!