10 Pet-Friendly Smart Home Solutions
Written By: Warm Thoughts Communications on May 4, 2021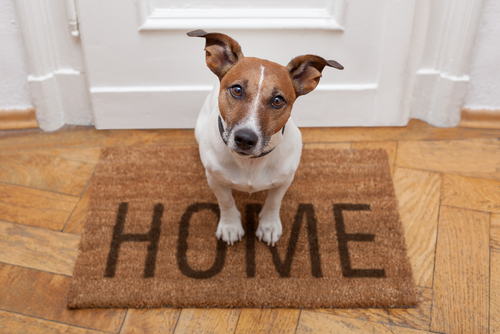 Energy-conscious pet owners have a double challenge if they spend a lot of time away from home. They want to keep their living space running efficiently while also ensuring that their furry friends are healthy and cared for.
The good news is the recent boom in smart home tech provides tons of options for doing both—sometimes with a single, handy device.
Whether you need to grant access to a dog walker, keep your cat from eating too quickly, or solve just about any other pet problem, you can probably find a smart way to do it.
Smart Home Tips For Pets
Here are 10 savvy solutions to help create the ideal pet-friendly smart home!
Remote Climate Control — Temperatures can turn on a dime here in the Northeast, and that can make things uncomfortable for your pet while you're away. With a smart thermostat, you can control your home climate remotely, so your pet will stay cozy in your absence. You'll also save money on heating and cooling bills (but your pet doesn't have to know that).
Smart Lighting — Most pets don't need a lot of light to get around, but you'll probably want at least a few lights on anyway, just to give the appearance that someone is home. With smart lighting, you can control your home lights from your phone, keeping some dim and putting others on a timer to save energy.
Smart Pet Doors — Pet doors can pose safety risks when you're away, but smart pet doors offer a great solution: a simple door flap synched to wearable technology that enables your pet — and only your pet — to enter the door. Smart pet doors also create an airtight seal when your pet is in or out, reducing drafts and saving energy.
Smart Cameras — Wondering what your pet is up to when you're out of the house? Smart cameras make it possible to check in on them while you're away. You can also keep an eye on the rest of the house too, just in case.
Motion Sensors — Motion detectors enable you to know where in the house your pet is. If you're not keen on following their every movement, you can set up your motion sensor to alert you only when motions suggest human activity.
Remote Door Locks — Smart locks allow you to provide access to your home for pet sitters and dog walkers without having to give anyone a physical key. They'll also alert you to when caretakers arrive, so you'll know your pets are getting the attention they need.
Automatic Feeders and Waters — Automatic feeders and waterers can be a godsend for pet owners (and hungry pets), dispensing enough food and water to keep your best friend healthy and happy. Available for dogs, cats, birds and even fish, automatic feeders let you control dispensing times, portions, and in some cases even the pace of food delivery (for you Labrador retriever owners out there). Some models will even send alerts to your smartphone to let you know your pet is partaking. Automatic water dispensers replenish water dishes when you're not home, so your pet will stay hydrated.
Self-Cleaning Litter Boxes — Self-cleaning litter boxes are perfect for busy or traveling pet owners, keeping a clean place for felines to do their business, and controlling odors in your home while you're away. Smart litter boxes will notify you when it's time to empty the waste compartment, and when daily cleaning cycles become more frequent (which could be a warning sign for illness).
Smart Toys — Even when pets are fed and hydrated, are they entertained? Smart pet technology includes a range of remotely operated pet toys, including pet companion robots, interactive laser toys, interactive ball launchers and more.
Smart Collars — Thousands of pets are reported missing every year across the US, but wearable technology like GPS-tagged smart collars can make for many happy reunions. Microchips also allow animal shelters to quickly contact you if your pet pays them a visit.
Smart homes are efficient homes, whether you have pets are not — so make your home a smart hub with solutions that save you money! Want another smart way to save money? Switch your electric or natural plan to Discount Power! Enroll in one of our money-saving electricity plans online today, or contact us to learn more about our affordable energy plans available in your place of residence!