Winterizing Your Home Matters for Your Energy Bills!
Written By: Warm Thoughts Communications on January 10, 2022
The Winter Season is Upon Us… Is Your Home Ready?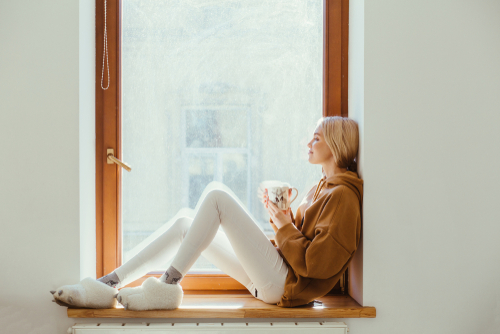 Winter seems to have given some folks a slight break this year—in terms of temperatures—throughout the country, but it's likely that won't last—especially across the Northeast United States. The coldest temperatures are right around the corner, and putting off winterizing your home now, when it feels milder, could backfire later. While it's best practice to start winterizing prior to the heart of the winter months, if you've procrastinated, or don't even know what winterizing entails, it happens—don't fret! Below, we'll walk you through the steps you need to protect your home and heating equipment this season—even if you're just now getting started.
Get Your Home Ready with a System Maintenance Check
No matter what kind of heating system or appliances you use in your home, having a routine maintenance inspection as winter kicks off can help prevent future headaches and expenses. An energy professional can tune up your equipment and repair any problems before they have the chance to get worse and cause a breakdown that leaves you without power or heat.
Getting an annual maintenance check is also important for reducing your energy costs. Routine checkups and upkeep tasks like replacing filters, tightening valves, and inspecting equipment for rust or corrosion can help you save big on your energy bills by making your system work more efficiently. After all, it takes quite a bit more energy to blow air through a clogged filter, as opposed to a clean one.
Upgrade Your Thermostat
A programmable thermostat is an absolute must if you want to make the most of your heating system. There are several models to choose from, whether you are looking for a smart thermostat that can use your location data, via an app on your phone, to begin heating up your home while you're arriving towards it or are an economy model that can follow a regular schedule, such as your working hours. Whatever you choose, a programmable thermostat means you won't be paying to heat your home to your desired comfort while you're not even there.
Utilize Your Ceiling Fans
Ceiling fans aren't just for summer. It's true—many people are often not aware that ceiling fans can actually play an important role in keeping your home warm during the winter! By changing the direction of your fan—there's usually a simple switch to flip on the fan's base—you can force the heated air back down to floor level, where you and your family can better enjoy the warmth that you're paying to generate. In turn, your heating system won't need to work as hard or put out as much warmth, which reduces your costs with just the flick of a switch.
Seal Cracks and Gaps
Even small cracks and gaps in your home's weather stripping, foundation, window seals and other areas can allow warm air to escape and cold air to enter unexpectedly. While these openings can have a big impact on your ability to save on energy costs, the fix is simple and involves replacing any seals, weather-stripping, or caulking that is cracked, peeling, or missing. Likewise, think about adding insulation to areas in your home that may need it, especially the attic, basement, or crawl space.
Closing Unused Vents
Consider closing the vents in the rooms that you don't spend much time in. There's really no point in paying to keep a room at your preferred comfort level when you're not using it. Of course, you don't want the pipes to freeze, but reducing the heat that flows to an infrequently used room by a few degrees can increase your energy efficiency with no risk to your pipes or comfort.
Take Control of Your Energy Costs with Discount Power!
Winterizing your home also means thinking about where and how your energy dollars are being spent, and if there are better ways to save on those costs. Are you paying too much for electricity or gas? Discount Power makes it easy and safe to save on your electricity and natural gas bills by letting you choose the plan that's best for you, all while helping you reduce your carbon footprint at the exact same time.
Don't worry, your utility company will still respond to power outages, and send you your statements. But now you're not stuck with their limited options! If you're tired of seeing your utility bills fluctuate without any control over what's happening, you'll love us. Lock in your monthly rate for up to 36 months.
Currently, Discount Power operates with utilities in Connecticut, Delaware, Maryland, Massachusetts, New Jersey, Ohio, Pennsylvania, and Rhode Island servicing both residential and commercial customers. Give us a call today to learn more about harnessing your own power to choose your energy plan—and how you can save big, while going green!